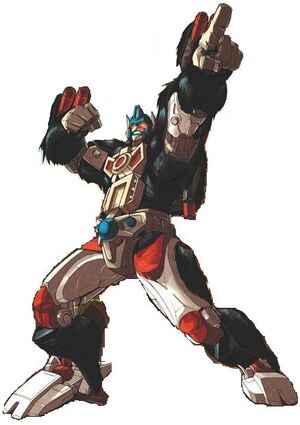 Optimus Primal
is the leader of the
Maximals
and the captain of the spaceship
Axalon.
His beast mode is a
Gorilla
. He had a rivalry with the Predacon commander,
Megatron
. He was named after the Autobot leader, Optimus Prime. He was a
Transmetal
then he was known as
Optimal Optimus
.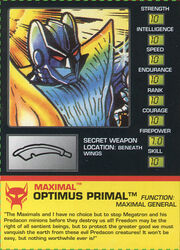 Optimus Primal vs. Megatron
Edit
Originally, Optimus was supposed to be a Bat. According to the Beast Wars Sourcebook, it was suggested by the Axalon computers, but Optimus rejected it in favor of the more powerful gorilla. The comic indicated that this was the new body of Optimus Prime (before the series even started).
Ad blocker interference detected!
Wikia is a free-to-use site that makes money from advertising. We have a modified experience for viewers using ad blockers

Wikia is not accessible if you've made further modifications. Remove the custom ad blocker rule(s) and the page will load as expected.