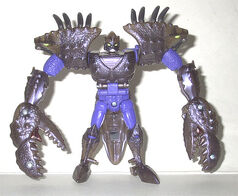 Sea Clamp is a Transformer in the Beast Wars Universe. He is a member of the Predacons. His beast mode is a Lobster. He is also one of the Tripredacus Council because he has great "crushing power". Presumably this means that he is good at crushing things, and not that he tends to develop crushes on his fellow Predacons. He can combine with Ram Horn and Cicadacon into Tripredacus.
Ad blocker interference detected!
Wikia is a free-to-use site that makes money from advertising. We have a modified experience for viewers using ad blockers

Wikia is not accessible if you've made further modifications. Remove the custom ad blocker rule(s) and the page will load as expected.