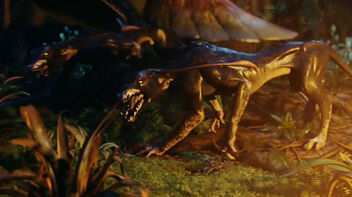 The viperwolf (Na'vi name: nantang) has six legs, a lean, powerful torso and has evolved to travel swiftly over long distances in search of prey. Very few predators (the Mountain Banshee among them) will attempt an attack on a viperwolf. Viperwolves almost always move in packs that can mass together into a highly cooperative hunting party within seconds of finding prey.
Ad blocker interference detected!
Wikia is a free-to-use site that makes money from advertising. We have a modified experience for viewers using ad blockers

Wikia is not accessible if you've made further modifications. Remove the custom ad blocker rule(s) and the page will load as expected.